AFTERCON 2010
Co-organizers Matt Lorentz and Mark Richmond have sent in the following images of the final flyers and the press release for the AFTERCON 2010 art show and benefit auction in Shel Dorf's honor. The event will run concurrently with Comic-Con, July 22-24, 2010 (that's Thursday, Friday, and Saturday), from 8 PM to midnight. For more information, visit the official AFTERCON web site at http://aftercon.blogspot.com/.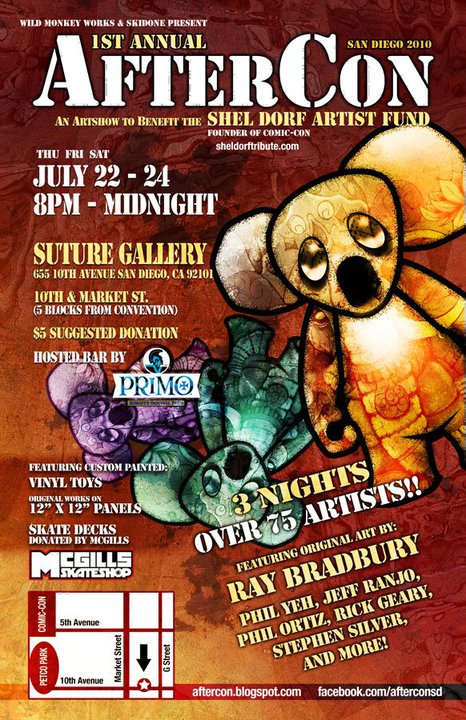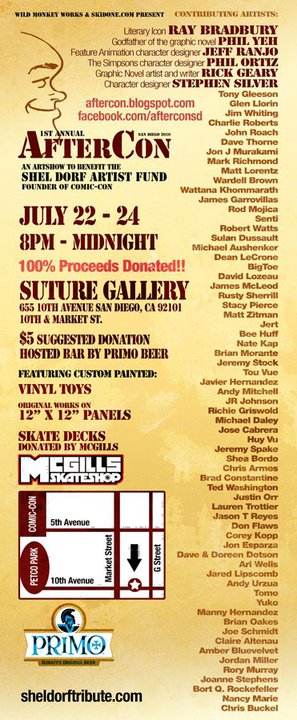 AfterCon 2010: PRESS RELEASE
July 5, 2010
San Diego, CA
FOR IMMEDIATE RELEASE
CARTOONISTS RAISE MONEY FOR ART STUDENTS IN HONOR OF COMIC CON FOUNDER SHEL DORF
The late Shel Dorf founded the San Diego Comic Convention in 1969, where 300 people attended in 1970. Today it is a pop culture juggernaut known as Comic Con International with 125,000 attendees every year. Shel mentored several generations of aspiring artists since the beginning of the Comic Con and throughout his retirement.
Shel's brother, Michael Dorf, founded The Shel Dorf New Talent Encouragement Fund last November to further Shel's legacy of helping aspiring artists realize their artistic goals and careers. The fund provides financial assistance to selected high school and college students who have a passion to work in the comics and animation fields.
Artists Matt Lorentz and Mark Richmond were among the last generation of artists Shel helped and they are the organizers of the silent auction art show known as the AfterCon to assist the cause. "We just want to pass along Shel's generosity and encouragement to the next generation of artists," says Matt Lorentz. "The funding for art programs in California especially has been suffering for years. The outpouring of the 70 professional artists in this show, who donated their time and talents has been amazing".
The AfterCon will run for 3 days (July 22nd-24th) off site from Comic Con at Suture Gallery during this year's Comic Con International. The show features original works by artists from Hawaii to Pennsylvania and Australia to Japan. Among them is Comic Con's very first Guest of Honor and staple, author Ray Bradbury.
AfterCon artist and literacy promoter Phil Yeh, of Cartoonists Across America, found inspiration and the encouragement needed to start his cartooning career at that first Comic Con in 1970 when he met Ray Bradbury and Jack Kirby. Phil stated, "I was able to ask them how to get into the field of creating comics and writing books. I was not a very good speller and I recall that Ray told me that there were editors. It didn't even matter if you typed perfectly! Jack was very warm and direct as he told me to 'just do it'. I remember thinking that I now had the permission from these two giants to do what I had always dreamed of as a very young kid. Both of these men were completely humble and you could see that they loved what they did for a living."
"When the world really gets a chance to know what Shel Dorf did 'behind the scenes' to help so many of us get to know other professionals and this business, they will have a better appreciation for the founder of Comic-Con than just that one title".
The First Annual AFTERCON 2010: An art show to benefit The Shel Dorf New Talent Encouragement Fund
July 22nd , 23rd, and 24th, 2010 at SUTURE GALLERY
(655 10th Avenue, San Diego , CA 92101)
8pm to midnight.
Media Contacts:
Matt Lorentz -AfterCon Organizer
(619) 995-1906
mattlorentz23@yahoo.com
Mark Richmond -AfterCon Organizer
(619) 488-7557
skidoneart@gmail.com
Phil Yeh – Cartoonists Across America
philyeh54@yahoo.com
The Shel Dorf New Talent Encouragement Fund
PO Box 232497
San Diego, CA 92193
The Shel Dorf New Talent Encouragement Fund was established in November 2009 by Shel's brother, Michael Dorf to provide financial assistance to selected high school and college students who have a passion to work in the comics and animation fields. The fund helps aid in the purchase of art supplies, educational DVDs, and literature to inspire students, as well as assist with their art education tuition.
Shel was a mentor to many aspiring artists who later became professional artists. As a comics historian and writer, Shel helped elevate the perception of the comic and animation fields to their respected place within the arts. Shel helped build a strong community of creators who share his same passion for the arts and generosity towards young careers on the rise.